Mission Statement:
"We steadily improve our processes and procedures in order to make our customers ecstatically happy while maintaining the dignity of our entire family of employees".
2004 Cessna Skyhawk 172R
N2119E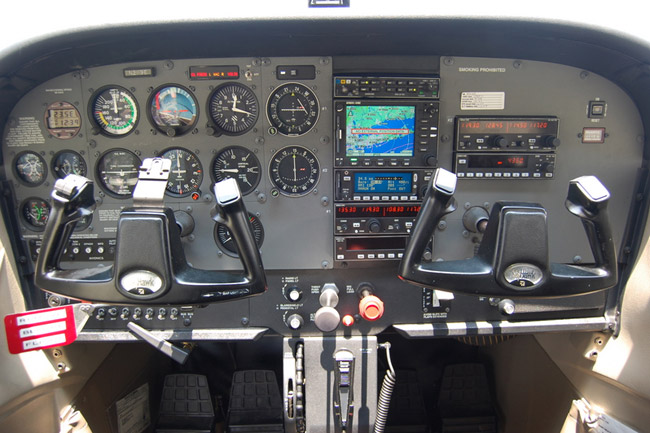 Specifications
Instrument Panel

Prop:
Exterior:

Interior:
160
Fixed
White with Red & Blue Stripes
Gray
IFR Equipment:
Audio Controls:
Com 2/Nav 1:
Com 2/Nav 2:
ADF:
DME:
GPS:
Transponder:
AutoPilot:
Yes
KMA-28 KX-155A with G/S
KX-155A
NO
NO
KLN-94B
KT-76C KAP-140 2 Axis
Weights
A/S Limitations
Basic Empty:
Max Gross:
Useable Load:
Max Ramp:
Max Takeoff:
Max Landing:
1698 Ibs
2457 Ibs
759 Ibs
2457 Ibs
2450 Ibs
2450 Ibs
Vne (Never Exceed):
Vno (Max Structural Cruising):
Vx (Best Angle of Climb):
Vy (Best Rate of Climb):
Vfe ( Max Flaps Extended):
Va 1 (Design Maneuvering):

163 KIAS
129 KIAS
60 KIAS
79 KIAS
85 KIAS
99@ Ilbs
Fuel / Oil
Added Features
Fuel Capacity:
Useable Fuel:
Oil Capacity:
Minimum Oil:
56 Gallons
53 Gallons
8 Quarts
5 Quarts
Strobes, Elevator Trim, Taxi Light, Back lit panel, Leather Seats.
Comments
This Plane has a full King IFR Panel with 2 Axis Autopilot, KMD 540 MFD and Color KLN 94B IFR GPS and Altitude Preselect.
Back to Prices