MANAGEMENT
Mid Island Air Service, a full service Long Island FBO, has been a family owned and operated business since 1946. Started by Louis Mancuso, Sr., the family tradition continues through his children, Louis Jr.serving as president, Gail M. Mancuso as vice president, as well as grandson, Michael Mancuso, and partner, Vincent Basile overseeing the business.
Louis Mancuso, Sr.
Founder
Louis Mancuso, Jr.
President
Gail M. Mancuso
VP, General Manager
Michael Mancuso
Partner, Aerobatic Pilot
Vincent Basile
Director of Sales
Bill Jensen
Chief Pilot, Part 135 Charter Pilot
Don Lawrence
Flight Operations Department, Computer and Marketing Support
JIM Orehosky
ISP Flight Operations Manager
John Coluccio
Director of Maintenance
John Ogozalek
ISP Assistant Chief Pilot
Management Contacts >>
Louis Mancuso, Sr.
Founder
Louis Mancuso, Sr. An Aviator's Life.
Surely, folks might be forgiven if they think of Louis Mancuso, Sr. as deux ex machina (literally "god from a machine" -in the early 20th century, pilots were often thought of as "sky gods").
In 1933, less than a decade after Charles Lindbergh took off from muddy Roosevelt Field, Lou followed suit taking his first airplane ride from that now famous Nassau County pasture. While Lindbergh flew on to Le Bourget changing the dimensions of the globe along the way, Lou soared towards Farmingdale, Deer Park, Islip and Brookhaven, forever changing our relationship to the Long Island landscape. Lou, like the modest Swede from Minnesota, was a pioneer – a young man with courage and a sure sense of adventure. His image is writ large on the soil of our island and, in this 60th anniversary issue of MID ISLAND NEWS, we celebrate his achievements.
Lou took his first flying lessons in 1934, earning money to fund his passion while working as a caddy and farmhand. Initially he was discouraged with his progress and told his instructor, Jack Looney, "I'll never be able to land that plane." Thanks to a pep talk from Looney, Lou hopped back in the seat. In 1937 he made his first solo from Grumman's grass strip airfield. Long Island aviation would never be the same again.
While working at Republic Aviation, Lou earned his CFI, bought a Piper J-3 and instructed on weekends. His routine however – as with most of America — was interrupted in 1941 by Japan's attack on Pearl Harbor. The government ordered all civilian aircraft away from the coast and Lou left Republic to join the Navy. Slight of stature, Lou was unable to enlist and instead journeyed to Clewiston, Florida where he instructed in a program training Scottish and English cadets to fly PT-17's and AT-6's. Although a civilian, Lou wore an RAF uniform and was extremely proud of his association with the Brits. He observed that "the British really had their training down to a science" and was quite impressed by their patriotism and sense of mission. By 1942, Lou's flying talents were recognized by the US Army and he was sworn into the Army Air Corps Enlisted Reserve — then immediately put on inactive status so he could continue training airmen for the RAF.
When the war ended, Lou toyed with the idea of opening an FBO in Florida. However most of his family was still in the Northeast. So along with his new bride, Connie Savino, they returned to their Long Island roots.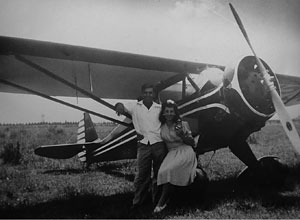 Lou was able to purchase another J-3 and for a time gave flight lessons at Zahn's in Amityville as he waited for town approval to build Deer Park Airport. Once permission came, Lou again showed his pioneer ethos, clearing enough brush from the oak and pine lands of central Suffolk to make a useable runway. The maiden flight into Deer Park was on January 27, 1946. With two J-3's and a surplus Army Fairchild, the Mid Island Flying School – and soon to be charter service — became a reality.
In the early 1950's Lou met – and flew — horse/driver trainer Billy Haughton on frequent charters. A friendship developed and Lou purchased his first race horse at auction in 1954. While aviation still held first claim on Lou's vocational affections, the equine paddock began to attract him.
In the following years Lou expanded operations at Deer Park and by 1964 signed a lease agreeing to open a branch at Brookhaven Airport. By the 1960's hundreds of veterans, under the GI bill, had earned their wings at Mid Island. Lou gave most of the flight tests and the school grew to over 20 aircraft. By 1967 he had logged over 20,000 flight hours.
The worlds of aviation and horse racing continued to intersect for Lou. In the mid-60's he traded a Cessna 337, twin engine Sky Master for a half interest in Rum Customer, a 2 year old standard bred pacer. It was a propitious move.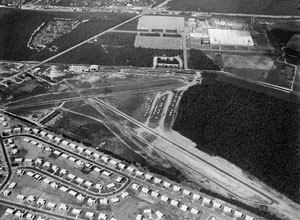 In 1968 Rum Customer won the Triple Crown. Lou took some of the earnings from Rum Customer's success and invested in registered Black Angus cattle. It was a good move. In 1969 Lou purchased a 700 acre farm in Carysbrook, Virginia where he continued to raise Black Angus and added a training track to exercise race horses. Still, aviation was never far from Lou's thoughts. The long end of the track was extended to a 2,000' plus runway. Horses and cattle were still going to have to share Lou's heart with an airplane.
Due to rising taxes at Deer Park, in 1974 Lou signed a lease with the town of Islip to relocate and establish an FBO at Long Island Macarthur Airport. ISP was almost exclusively a general aviation field back then and Mid Island's operations expanded rapidly.
In 1993, Lou sold the Virginia farm and divided his time between New York and Florida. In recognition of how much aviation contributed to his wonderful life and family, Lou and Connie used the proceeds from the sale of the farm to establish a trust for Dowling College. The trust will generate scholarships for many years to come, so that future students will be able to advance their aviation careers.
In November 1997, surrounded by his wife Connie, their four children; Juanita, Louis, Jr., Gloria and Gail, three of their five grandchildren; Michael, Kari Anne and Susan, a host of good friends and family, Lou was honored by his peers; The Long Island Aviation Recognition Council. In saluting Lou, the Council made it clear, that few had influenced the tone and scope of Long Island aviation as much as he had. Beyond a doubt here was a giant, who forever changed the way people would understand their relationship between the dimensions of land and sky.
Lou Mancuso's life is emblematic of all those virtues that we so cherish as Americans; hard work, love of family, generosity towards others. Mid Island Air Service's commitment to customer service and desire to hold the leading edge in technological innovation, is a reflection of the man who built it. Aviation has always been the realm of those who can imagine, what most believe to be impossible. Flight gave Lou his dream. In what is obviously the measure of the man, he leaves a legacy that allows future generations of dreamers to look at the sky and say, "why not." Trust me. I'm one.
Louis M. Mancuso, Sr: Soar with the Angels.
August 25, 1919 - July 12, 2008
Albin Cofone
back to top
Louis Mancuso, Jr.
President
Louis Jr. received a BS in Business Education from the University of Dayton in 1969. He taught "Introduction to Business" to Long Island ninth graders for two years while teaching flying at Mid Island on weekends. The call of the skies and the family business quickly took hold and Louis joined MIAS full time in 1971. Over the next few years he logged over 2000 hours as an FAA Certified Flight Instructor. His concentration turned towards aircraft sales and in 1973 & 1974, Mid Island was the number one Piper dealer in the United States, selling over twenty new Pipers per year.
Lou has the philosophy that one must continually learn to grow and in 1992 earned his Master's Degree in Business Administration from Dowling College. It was at that time that Lou formulated the MIAS mission statement… "We are steadily improving our processes and procedures in order to make our customers ecstatically happy while maintaining the dignity of our entire family of employees".
In the early 90's, the face of general aviation was becoming easier, however, it seemed that on occasion, pilots were still making poor decisions and getting in trouble. Lou wished he could help with their decision making to make them safer pilots. Following these thoughts and concerns, Lou authored the "Personal Limitations Checklist…Think like a Pro" booklet and questionnaire. It is one of his proudest accomplishments to see his customers flying safely by adhering to their PLC.
Lou has grown the FBO by reinvesting in the business and increasing hangar capacity to over 140,000 sq ft. The FBO's hangars can accommodate aircraft up to the Gulfstream.
Lou has been guiding the FBO for over 37 years and is still enthusiastic as he promotes the new Sport Flying aspect of Mid Island Flying School. The only thing that excites him more than the new Sport Aircraft are his Piper Turbo Twin Seneca and his three grandchildren…but not in that order!
Mission Statement:
"We steadily improve our processes and procedures in order to make our customers ecstatically happy while maintaining the dignity of our entire family of employees".
back to top
Gail M. Mancuso
Vice President
Gail began working during the summers for the family business after graduation from high school. She experienced the thrill of her first solo flight in a Cessna 150 at Deer Park Airport in the summer of 1972.
Each summer, while attending Kutztown State College in Pennsylvania, she continued to work for Mid Island. In 1976, she graduated with a B.S. in Art Education, certified to teach K-12. In 1978 she had the opportunity to fill in for an art teacher on leave at Hauppauge High School and taught courses as diverse as fashion illustration and jewelry making.
After graduation, she began to work full time at Mid Island's Brookhaven Airport location as the flight school dispatcher. She earned her Private Pilot's Certificate in February 1980 and in the Fall of that year, she attended a 200 hour, FAA Aircraft Dispatcher, training course and successfully completed this certificate. From 1981 until 1987 she worked at LaGuardia Airport for New York Air, a regional airline, which operated DC9-30's, MD-80's and Boeing 737's. She began as a dispatcher and not long after, was promoted to Flight Control Manager, responsible for overseeing the operation of 35 aircraft and a staff of ten dispatchers. When Continental and NY Air merged, the dispatch office was relocated to Houston and Gail came back to the family business.
(But not before spending a month in the South Pacific).
Acting as General Manager of the Islip branch and VP of the company, Gail is grateful that Lou, has generously made her a quarter partner in the business, founded by their father. Gail is the Director of the Louis Mancuso, Sr. Scholarship Fund, founded to honor her father, the founder, of Mid Island Air. Since 2009, the fund has presented two, $1000 scholarships annually to Long Island high school seniors pursuing a career in aviation. Gail has participated in the Long Island 2 Day Breast Cancer, 35 mile walk since 2005; personally raising over $40,000 to benefit Long Islanders affected by this disease. In 2006 she had the opportunity to challenge herself by spending five days camping and hiking across the Grand Canyon, Rim to Rim. In the Fall of 2007, she spent a week in Taos, NM volunteering in the construction of two, Habitat for Humanity, adobe homes. She is an avid reader and loves to travel, both domestically and internationally. In January 2008, she reached her goal of visiting all seven continents when she walked with the penguins on Antarctica.
back to top
Michael Mancuso
Partner, Aerobatic Pilot
Michael started flying gliders when he was 11 years old. He soloed in an airplane
on his grandfather's farm when he was only 13 years old! What else would you expect a 13 year old to do in an airplane up there all by himself than to teach himself aerobatics? By the time Michael was 18 years old, he had his commercial pilots license and was off to a successful aerobatic career. Michael retired from aerobatic competition in 1998 to join the Northern Lights Aerobatic Team. He stayed with the world famous, award winning team until their retirement in 2000.
2007 will be Michael's 10th year as a full time air show superstar! In addition to the solo show he is now so well known for, Michael has combined forces with Matt Chapman to create 2 ship formation aerobatic routine that is the stuff legends are made of! Michael is also a member of the Screen Actors Guild and is looking forward to a career as a major motion picture stunt pilot.
Visit his web site at www.mmairshows.com.

back to top
Vincent Basile
Director of Sales
Vince joined Mid Island back in the 70's while we still operated at Deer Park Airport. He is a CFI with a BS from Dowling College. His passion is aircraft sales and his expertise speaks for itself in the hundreds of aircraft, everything from singles to jet aircraft and helicopters, which he has sold. If you are looking to lease or purchase a plane, Vince will find the right plane for your needs and pilot experience.
Vinnie has been a Mid Island partner since 1993.

back to top
Bill Jensen
Chief Pilot, Part 135 Charter Pilot
I started flying at Mid Island in June 1976. Three months later I had earned my Private. I had completed my Instrument, Commercial and CFI by 1978 when I began instructing part time for MIAS. Instructing is my first love and I've been doing it ever since.
My current ratings are: ATP (Single/Multi Engine Land& Rotorcraft), Commercial (Rotorcraft-Helicopter & Glider), and CFI (SE/ME/Instrument Airplane/Helicopter). With the exception of Turbine and Helicopter, all of my training has been with Mid Island Flight School and I'm pleased to be working with their staff of instructors as their Chief Flight Instructor.
I've been a corporate pilot for the past fifteen years, eight as a captain on NetJets 200 Super King Air, ferrying their top corporate staff all over the east coast. I was the Check Airman in the 200 for NetJets located at Bradley International Airport and worked with the Windsor Locks FSDO keeping their Check Airmen current in the 200 King Air.
I am presently flying Part 91 and 135 corporate charters on King Air 90 and 200 series airplanes, Piper Navajo Chieftains and a Bell Jet Ranger Turbine Helicopter. I instruct in everything from Cubs to King Airs, Tail wheel to Turbine, and Warbirds to Helicopters.
When not instructing, I might be flying for pleasure or tinkering with my car collection – often combining both hobbies by flying to car shows.
back to top
Don Lawrence

FLIGHT OPERATIONS DEPARTMENT
Computer and Marketing Support
The fun part of my job is working with new and prospective student and pilot customers on a daily basis. I also organize activities like trips, flying partners, safety seminars and courses, specials, as well as being the liaison to the Mid Island Pilot Club. And of course there is the occasional opportunity to fly.
I started at Mid Island in 2002 and love the people, the atmosphere, and just being in-and-around aviation. Prior to that I was Technical Support Manager with AXA-Equitable in NYC [formally Equitable Life Insurance Assurance Co.] for over 30 years supporting the different application environments, which included programming, design, development, disaster recovery, and application/computer support. I received a BA from Adelphi and an MBA from Fordham and somewhere in those early years my interest peaked in flying and I considered Navy Flight School after college, but "life took me in other directions". Finally in 1985 I buckled down and got my private and bought a Piper Warrior. For 10 years I flew all over the east coast as far south as Key West. Unfortunately I never went for my instrument rating, but did accumulated over 700 hours of flying time. However, the IFR is definitely in the cards for the near future. I am checked out in the Cessna 152 172 and RG, as well as the Piper Warrior, Archer, and our newest Evektor LSA.
I have lived on Long Island since college and in addition to my flying enjoyment, I also like traveling, swimming, biking, golf, and hiking the woods of VT. If anyone needs a seasonal TONIC, come see me as our trips and specials and remote courtesy car are all designed to help our Mid Island customers that might be getting Tired Of Navigating In Circles.
back to top
Jim Orehosky
ISP Flight Operations Manager

Jim's first memory of wanting to fly was in the 7th grade. He was interested in hang gliding. Since LI is not known for hang gliding, he had to wait a few years to fly. In 1986 he took his first flight lesson in a Cessna 152 at Mid Island. He flew on and off while attending Suffolk County Community College where in 1987 he finished with an associates degree in Criminal Justice. Soon after, he transferred to Dowling College where he majored in Aeronautics and Management. In 2001, while in his mid 30's, his love of aviation motivated him to change careers and he began working full time at Mid Island. While still working part time in the printing field, he started working as a dispatcher for our Islip branch as well as dispatching for a year at our Brookhaven branch on weekends. In 2003 he was promoted to Flight Operations Manager. Jim proudly holds a Private Pilot certificate which he earned here at Mid Island. He lives in Port Jefferson Station with his wife Kathy and children James and Kayla. In his free time he likes reading, following the Yankees and spending time with his family.
back to top
John Coluccio
Director of Maintenance
Our Director of Maintenance graduated at the top of his class from L.A. Wilson Tech School. John Coluccio is a Certified A & P mechanic with an Inspector Authorization. In his twenty plus years in aviation maintenance,, he has received factory training from Cessna Aircraft on their Single Engine and Multi-Engine Piston aircraft as well as the Conquest and Caravan turboprop aircraft. He has also received factory training from Piper Aircraft on the Malibu, and from Gulfstream on the GII series. He has also received training from US Air on their 737 series, DHC-8, Beech 1900 and Jetstream Aircraft. American Airlines has trained him on their MD-80 and F-100's. John also has experience working on Mooney, Grumman, Beechcraft singles, multis and King Airs.
The FAA has given John numerous award certificates and letters of appreciation for the many times that he has helped in accident recoveries and investigations.
John lives in Sayville with his wife, Deborah and sons, Dario and Jayson. John and Deborah are certified foster parents for Suffolk County.
For those aircraft owners and aviation enthusiasts whom have met and had dealings with John, know he puts 110% into giving his customers the best service possible and will always go out of his way to meet their needs.
back to top
John Ogozalek
ISP Assistant Chief Pilot
John started his flight training in 1958 at the early age of 15 on a grass strip in Pennsylvania. He obtained his flight instructor rating in1986. During the years 1965-1972 he was an avionics engineer at Grumman Aerospace.
John then entered the insurance field becoming a broker in 1972, where he remained until his retirement in 2000. During these years John was an avid pilot and was part owner of a Seneca for 14 years.
After his retirement in 2000, he joined Mid Island Air Service as a part time instructor and assistant chief pilot, where he remains today.
John has been married to his wife for 41 years and has 3 grown children and 4 grandsons. In his free time he enjoys spending time with his family and golfing and skiing.
back to top
Rev. 10/13/2010