Plane to THE Car
RELOCATED GROTON [GON] GROTON-NEW LONDON AIRPORT [GON] Mid Island Courtesy Car Available for Your Use
Free to Mid Island renters / $10 Contribution for non-renters
Proceeds go to the Louis Mancuso, Sr. Scholarship Fund
Students, Renters & Owners are all welcome Located at Columbia Air Services 860 449-1400
175 Tower Ave, Groton CT 06340
Groton and the surrounding area awaits you.
Ask Flight Desk for Details:
The car should be full when you receive it. We request that you bring the car back to the same level. If circumstances do not permit fueling, please advise dispatch and fuel will be charged to your account in fairness to the next person who uses the car.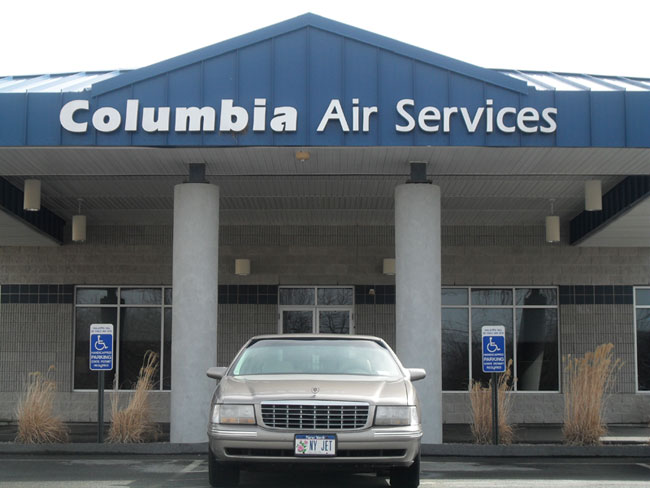 Ask Jim or Don for more Information and RULES for use:
The car is available for use the any Mid Island customer by scheduling through the ISP Dispatch at 631 588-5400. You should always find the car topped-off and clean. Please verify mileage against the clip board and notify Dispatch if any discrepancies. The trip Odometer should be zeroed-out and the gas gauge should show F [for full].
Car use for a maximum of 1 day - LOCAL area use/attractions like Mystic, casinos, museums, restaurants. etc. Always take a business card from the FBO in case you need to call. The FBO keeps a spare set of keys in case of problems, however, keys should be picked up on the day of your trip at ISP or HWV. You will find the insurance card & car manual are in the glove compartment if needed. And please do not eat/drink/smoke in the car –remove all trash and keep it neat.
There will be a $10 contribution for car. Dispatch will bill you for cash, account, or CC when you pick up key. This contribution will be waived for use in conjunction with a Mid Island aircraft rental. When you are ready to return the car to the airport:
Fill the tank – gauge should show F [full]
RECORD THE MILEAGE on the clip board
RETURN KEY to proper FBO - ISP, HWV, or GON
As a courtesy to all pilots, please make sure to record any discrepancies or problems, and inform ISP if the car is not full when picked up or if you are unable to fill it on return.
Safe flying and we hope you have a pleasant day.
Attractions
Mystic Seaport, 5 mi
Mystic Seaport Museum, 5mi
Mystic Aquarium, 5mi
Garde Arts Center 5 mi
U.S. Coast Guard Academy 5 mi
Foxwood Resort & CASINO, 10mi
Mohegan Sun CASINO, 10mi
Mahuntucket Pequot Museum


Restaurants:
USS Nautilus Museum, 3mi
Sneekers 1 mi 860/445-1967
Applebees 2 1/2 mi
Seamans Inn 10 mi 860/536-9649
Steakloft 10 mi 860/536-2661
YOUR MID ISLAND CAR is located at:
Columbia Air Services
175 Tower Ave.
Groton-New London Airport
Groton, CT 06340
860-449-1400
www.columbiaairsservices.com
AND MUCH MUCH MORE . . .
Rev 04/24/2012