FREE MONTHLY AVIATION SEMINAR SERIES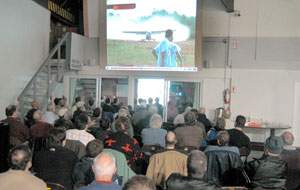 2013
| | |
| --- | --- |
| WHEN: | 2nd Saturday of each month |
| TIME: | 8:30 am Continental Breakfast |
|   | 9:00 am -10:30 am Seminar, Questions, Hangar Talk |
| WHERE: | Mid Island Air Service, Inc. • LI MacArthur Airport |
| SPONSOR: | FAA FAASTeam • SAFETY WINGS PROGRAM • www.faasafety.gov |
| | | |
| --- | --- | --- |
| SPONSORS: | GOLD: | Doorologist Inc. |
|   |   | Pegasus Private Client Group, LLC. |
|   |   | SMPL Technologies |
|   |   | Advanced Expoxy Flooring |
|   |   |  Car Circus |
|   |  SILVER: |   |
|   | BRONZE: | Data Storage Corp. |
|   |   |   |
JAN 12, 2013
ADVANCED PREFLIGHT – You Don't Know What You Don't Know
- So what don't you know
- Is a normal pre-flight good enough or is there a more thorough method
- Become more aware of all the safety related data pertaining to your aircraft
- Pre-flight procedures, maintenance issues, airworthiness, and flight safety
- Accident Incidents Discussion
Albert Schnur – FAASTeam Program Manager FRG FSDO / Bob Lippman, Phd, A&P, IA
FEB 9, 2013
The Digital Cockpit – The virtues and limitations of various navigation products
- Paper is giving way to digital data – a tool for preflight planning and in-flight moving-map display
- Firsthand experience with the iPad, which has a growing following among pilots
- Aviation programs for weather, weight & balance, FAR-AIM, electronic log books, etc
- How this technology can help – flight and trip planning services, charts, real-time Notams & wx
- Q&A and swap experiences, programs and apps
Ron Kaplan – Commercial pilot & USCGaux 014-06 mission pilot
MAR 9, 2013
TAKEOFF & LANDINGS – Why Pilots Get Into Trouble
- Attention to detail and a healthy respect for the limitations of airplane and pilot
- Wind, obstructions, and short/soft techniques – the 50/50 Solution
- Go around! Pilots seem to forget that it's an option,
- The viability of the "impossible turn" – there are plenty of reasons to be wary.
- The stabilized approach as well as tips for mitigating the numerous risks associated with any T&O
Dean Marshall, AGI, FAASTeam Rep, COMM Pilot
APR 13, 2013
MAYDAY – when is the right time to declare an emergency?
- When is the right time to declare an emergency? what to say? what to do? what to expect?
- What is ATC's role in an emergency? What will the repercussions be — especially from the FAA!
- Listen to ATC tapes and see videos of real-life emergencies and discuss what you would have done
- ADSE-X (the new transponder procedures at towered airports) and runway incursion mitigation progrm
- Whether a PIC or a passenger, this will help you develop strategies to deal with abnormal
John M. Cutcher, DPE, Navy, airline, corporate pilot
APRIL 20, 2013
FAASTeam Safety Stand Down – Nationwide Focus on Aviation Safety
- help you better understand how to approach safety – . . identify risks – . . reduce risks
- learn methods and procedures to sharpen your judgment and flight discipline
- increase your situational awareness [by] presenting commonsense guidelines to safety . .
- the[se] interactive seminars expressly target accident factors within the local areas.
- develop best practices, and assess their own level of discipline.
Albert Schnur, FAASTeam Program Manager FRG FSDO
MAY 11, 2013
AVIATION SAFETY – The human factors
- How to reduce the occurrence and impact of human error
- There are many ways to improve human performance
- This includes the evaluation of aircraft systems, maintenance, operations, pilot performance
- Also includes associated FAA policies and guidance, regulations, certification, and . . . . .
- Important factors are certification of pilots, mechanics, and other safety-related positions
Thomas Daly, MS, Director of Academic and Flight Training Programs Dowling College
JUN 8, 2013
CRM – Who's in charge
- Emergency situation in SEL – this is for everyone
- How to use available resources
- Do you know DODAR – everyone should be familiar
- Issues – mechanical, environment, personal
- Experience Falcon 900EX Easy simulator – limited slots available
Paul Hagarty – Flight Safety Intl, FAA DPE, CFI, CFII, SEL MEL
JUL 13, 2013
RUNWAY SAFETY – Leave you driving habits in the car
- Line up and wait, situational awareness, and proper communications
- Runway crossings and surface navigation to avoid runway incursions
- Animation involving 2 exp pilots and ex of what happens when best operating practices are not followed
- Analysis of the animation and what operational errors you detect and how these could be avoided
- Insights to safe operations, wx, NOTAMs, TFRs, preflight, newest avionics, and technically advanced a/c
Joe Foresto CFI, FAASTeam Rep, COMM Pilot, . . . . . . .
AUG 10, 2013
Emergency Procedures – Ready or Not
- Redbird simulator procedures, approaches, training, currency
- Different emergencies – engine outs, stalls, weather
- It's all about focus – emergencies in the air
- Maintain your IFR currency / Log 2.5 hrs toward PVT, 20 hrs IFR, 25 hrs Comm
- Block time & weekend specials
Gabe Nadasdy – MIAS Instructor CFI, CFII
Paul Hagarty – Flight Safety Intl, FAA DPE, CFI, CFII, SEL MEL
Albert Schnur – FAASTeam Program Manager FRG FSDO
SEP 14, 2013
"Starved and Exhausted"- Preventing Fuel Related Accidents.
- Fuel related incidents and how to prevent them
- Casualties of fuel related mishaps
- Fuel related accident statistics – actual related incidents
- Guest presentation [pre-recorded] Tom Turner Am Bonanza Society discussing issues of fuel mishaps
Frank Scotto – FAASTeam Lead Rep E Region, CFI/II/MEI/GIAI SEL, MEL, TURB, HELI
OCT 12, 2013
NASA SPINOFFS – What have we learned?  What's next?
-  The space shuttle and barcodes
-  Crash protection and memory foam
-  Apollo, MRIs, and medicine
-  Moon rocks, anti-gravity, and cordless drills
-  Tang, teflon, and velcro myths, and more . . .
JC Follender – PVT & aviation enthusiast, Citabria owner, flown all over US
NOV 9, 2013
POPULAR FARS – Did you know . . . . .
- Is the flight you are about to make, legal?
- Should you be concerned about ramp checks & how not to get busted
- If you take someone flying, what about the costs
- Analyze hypothetical historical flights
- Bring in your questions – panel discussion and Q&A
David Jensen – MI AGI, CFI, CFII, MEI, ATP, Gold Seal CFI, Chief Pilot, HWV
DEC 14, 2013
THE DIGITAL COCKPIT – The virtues and limitations of various navigation products
- Paper is giving way to digital data – a tool for preflight planning and in-flight moving-map display
- Firsthand experience with the iPad, which has a growing following among pilots
- Aviation programs for weather, weight & balance, FAR-AIM, electronic log books, etc
- How this technology can help – flight and trip planning services, charts, real-time Notams & wx
- Q&A and swap experiences, programs and apps
Ron Kaplan – Commercial pilot & USCGaux 014-06 mission pilot
Rev: 3/5/13