Pilot Supplies/gift Ideas
Pilot Supplies
Mid Island offers a selection of items that range from training books and charts to tee shirts and coffee cups. If we do not stock it, we can special order it for you. Following is just a small sample of the product lines we carry:
ASA
Avcom
David Clark
FAA

Cessna

Gleim
Jeppessen
Kerschner
NOS Government Charts – VFR/IFR
Ralph Machado

We have training programs by Cessna, King and Jeppessen and books by hundreds of authors. We carry the full range of Gleim test prep books and CD's. We stock most VFR/IFR charts east of the Mississippi and can order worldwide charts. All Practical Test Standards and Oral Exam Guides published by ASA are available.
Some of our novelty are: mugs, license frames, tee shirts, ornaments, novels.
Many items are available for pilot convenience, such as: kneeboards, yoke clips, chart markers, flashlights, headsets, timers and foggles.
If you need it or have seen it somewhere, we can get it for you.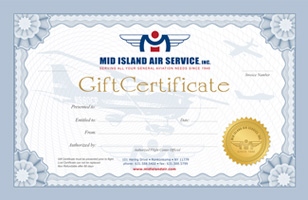 Flight Gift Certificates - Order Online Now
Gift Ideas
In addition to the pilot supplies mentioned above which make nice gifts for the pilot in your life, we also offer gift certificates for any denomination. We also offer a variety of Introductory Flight Lessons which is a great way for prospective students to decide if they wish to begin flight training – and a flight lesson is a great gift idea for Father's Day, Graduation, Birthdays and Holidays.